Hi, I'm Sarah, Nutrition and Behaviour Change Coach
I'm here to help people who are fed up and looking for answers.
Who are tired of being drained by their health conditions.
(anything from stubborn weight, to gut pain, to eczema and diabetes)
Who think diet could be the answer but have tried to change their eating habits and can't make it stick.
Is this you?  Then I've got three things to say to you…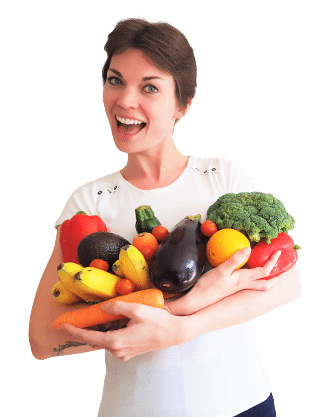 Don't settle
Don't give up on yourself and settle for this life of poor health.  I really hope you agree that your health is important enough to invest some of your time and money in!  Everything in life is easier once you have good health. 
Get clued up about inflammation
This will seem like an odd one if you don't know anything about inflammation.  But trust me, it could be a game changer (it was for me).  Take the quick quiz to see if it could be the underlying reason for all (ok, maybe just most) of your issues. 
You CAN change
Many of us fail at diet change, repeatedly.  You might think it's you, but so much about habit change is mental, and that can be changed! 
You need a proper strategy, and ideally some support, and then you too can succed at change and take back control of your health.
The HEAL Community has been launched!  Come join us!
Why?
If you're fed up with dealing with draining health issues (everything from headaches, stubborn weight and fatigue, to diabetes, IBS and excema) you can get help to finally make successful diet and lifestyle changes.
As a Nutritional Therapist and Nutrition and Behaviour Change Coach, I will help you:
Understand why you have failed in the past
Learn how to make a successful change with my H.E.A.L. change success path
Find your real motivation
Identify your barriers and learn HOW TO OVERCOME THEM, though suggestions, tips, recipes and videos on many topics.
Learn about chronic inflammation and how it could be the thing that is holding you back (seriously, learning about this was a life changer for me!)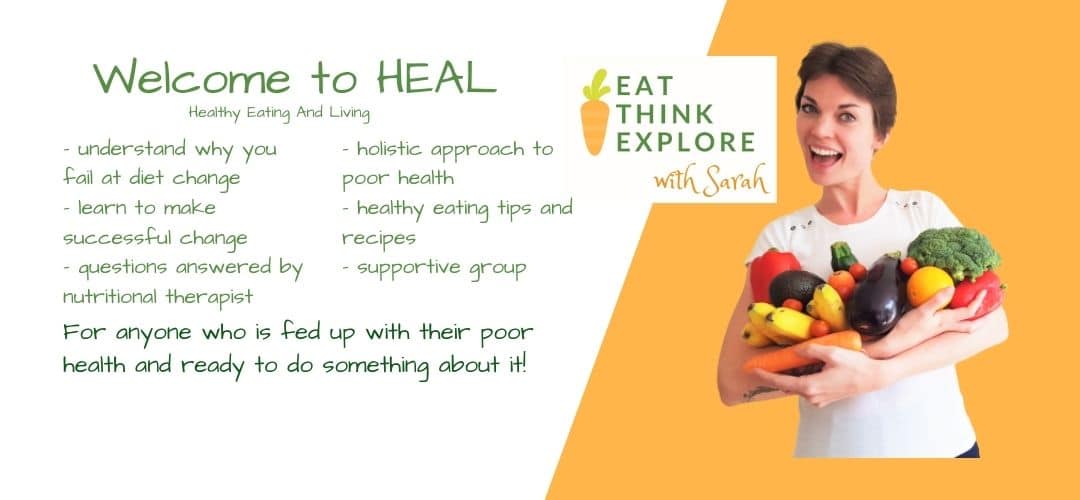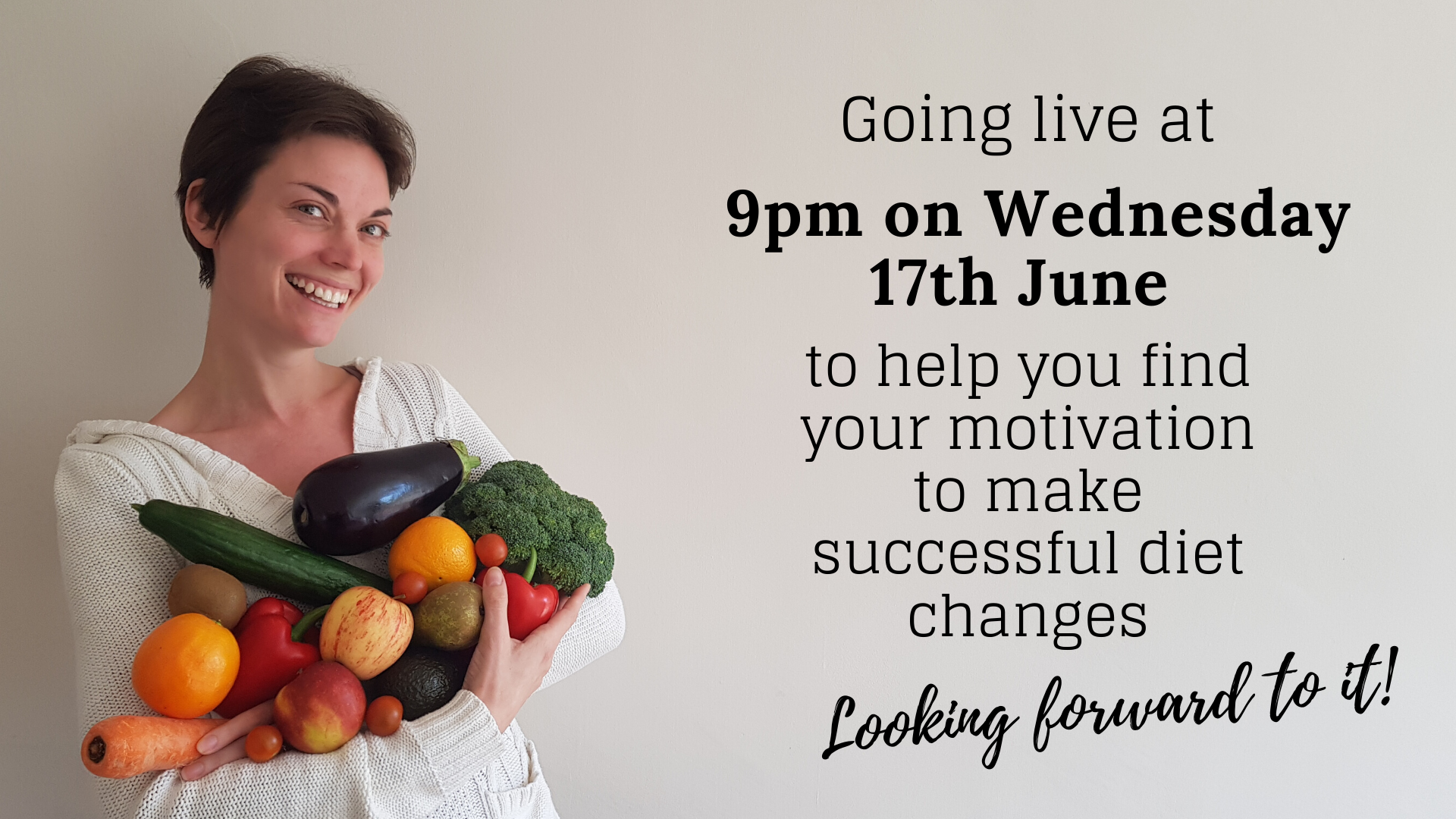 Replay available
Make healthy eating your reality – finding your why
Most of us know we should eat more healthily, and largely know how to eat more healthily, but we still fail at it time and time again.  Why?
In this 30 minutes I delve into the psychology of habit change, helping you understand why you haven't succeeded so far, and looking at how to improve your success going forwards by really nailing your why.
Check the video out and start making healthy changes stick.
Hello!
I'm Sarah, a Nutritional Therapist and Behaviour Change Coach.
You probably gathered from the bit above that I'm on a mission to raise awareness about the effects of chronic inflammation on the body and help people make changes to their lives (diet and lifestyle) to 'calm their inner fire'.
Why?  Because not so long ago, I was struggling to function through a haze of health issues.  Juggling work, kids and family life whilst being worn down constantly by poor skin (psoriasis, ezcema, dermatitis etc), a dodgy gut, low energy, asthma and allergies.  The result: a massive tub of medicines, a bleak outlook on the future and depression.  Perhaps you can relate?
After rejecting this as my reality; I got myself out of this hole by identifying an imbalanced immune system, which I improved with diet changes (despite initially hating vegetables and being a really fussy eater!  Sorry Mum…).  Food became my medicine, which when you get a little more into the science of it all (which I did being a total science geek), makes a whole lot of sense.
And the great thing is that I LOVE the food I eat now – it's far from bland, I don't count calories, I don't go hungry and I do eat 'bad' (let's call them less healthy…) foods sometimes.
So now I help people get from where I was, to where I am now. If you need my help get in touch today and reclaim your health!
Everything I do here at EAT THINK EXPLORE is based around:
       ♦ scientifically proven facts
       ♦ supporting you to make long term changes with a focus on mindset changes through behaviour change coaching
       ♦ sustainable choices for our planet (i.e. a focus on eating more locally sourced, reduced packaging and plant based foods)
       ♦ enjoying ourselves along the way – life is for living!
EAT THINK EXPLORE is your route to better health and a better life.
What's with the name?
It encompasses the things I'm passionate about; food, exploring and the world.  Let's take a deeper look at each…
EAT
Meaning: to consume food – pretty obvious that one!  But also, to begin with enthusiasm, and to take small bites of, which sums up my approach here.  Massive change is hard, but break it down into small chunks and find your motivation and you can achieve it.
 ——————–
My main focuses in nutrition are around healing through diet, particularly resolving chronic inflammation as it's the root cause of so many conditions (poor skin, gut issues, lack of energy, stubborn weight, pain and chronic diseases like heart disease and cancer).   I used to have many of them, so I know first hand that diet can help.  Feed your body the vitamins and minerals it needs, move it around a bit and reduce inflammatory agents and it will thank you!
The services offered here at EAT THINK EXPLORE focus around diet and lifestyle assessment  and creating a tailored plan for you, which includes behaviour change support and education so you can make these changes stick this time.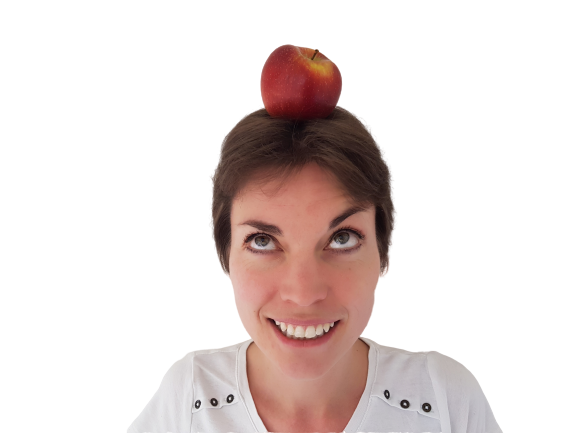 THINK
Meaning: to have concern about something (our health and the environment), to have a belief in something (ourselves) and to consider the possibility of new things, especially foods and adventures.
———————-
Here I'm all about thinking about the world we live in and what better choices we can make to protect it.  All of my nutritional advice will be given with advice on how you can make better choices for the world.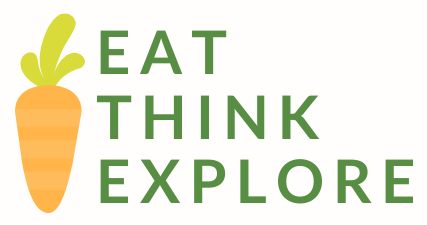 EXPLORE
Meaning: to engage in a journey for the purposes of discovery, to engage in self discovery, to look for/seek, to investigate in a systematic manner, and to make a trip or visit.
——————–
My journey to health started by exploring different ways to treat my various conditions, leading me to the one big issue in my life – inflammation, and really looking at what we wanted from life.
As a family we are also all about adventures, big and small.  From trying new foods (beetles in Laos!), a weekend walk, to setting off for a year around the world. We want to inspire and empower you to live a little and Say Yes More.
Since we started living our lives by this motto the changes have been massive and I can't believe where we've come in four years (it all sounds a bit cliche we know and we're not ones for the gushy stuff, but it's really true!).
What will you find on the blog?
Here at EAT THINK EXPLORE you'll find information and tips (backed by scientific research or personal experience) in my blogs on the things that I'm passionate about; healthy foods, reducing inflammation, maximising nutrients, making more sustainable decisions and exploring this wonderful world!
Check out some of our most recent posts below: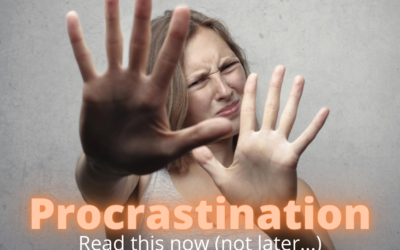 Procrastination Ah procrastination, the destroyer of so many good ideas and intentions. It affects us all, causing us to put off doing things we know we should do, and even want to do! Like not changing job, never quite getting around to learning a language, or not...
read more